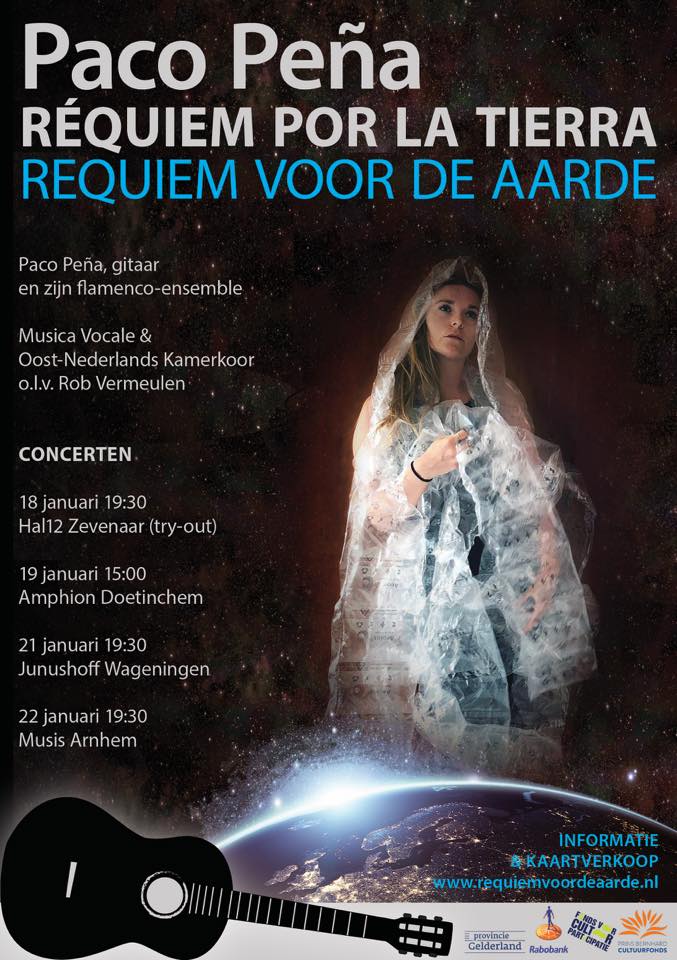 'To survive and be happy, man has no choice but to trust the earth and its resources. It goes without saying that we must honour nature, but that we must also protect it against the abuse that human beings make of it '- Paco Peña.
Last January, the Dutch youth campaigned in The Hague to combat climate change. During the climate march on 10 March, 40,000 people took to the streets for a better climate. They, as a future for this earth, made a cry for help. Also in Paco Peña's Requiem for the Earth, a flamenco singer cries out for help: "My soul is crying, my hope in humanity is fading." And the children's choir asks us why we cannot take better care of the earth. We are living on the eve of a new era. Which way are we going? Are we taking care of our earth and using resources more sustainably? Or do we continue along the same lines as we do now?
The Oost Nederlands Kamerkoor and Musica Vocale want to give this cry for help another voice by means of the music of Paco Peña, together with their partners in this project. With the Requiem for the Earth we can encourage people to move. Through this project, in which music, dance, fashion, conversation, projection and education have a place, we wish to unite people, connect them with each other, and bring them into action. The Requiem for the Earth is a Flamenco requiem. Different generations, worlds, languages ​​and music styles meet around the theme Por la Tierra!
---
Requiem por la Tierra, Requiem for the Earth, doesn't that sound a bit dramatic? "It's too late, the earth is dead, let's sing a nice requiem for it." It is certainly dramatic, but not in this sense. The piece has an urgent message, because the earth is not dead yet, but even a climate skeptic will acknowledge that something need to change seriously in order to reverse the downward spiral. The piece is also heartbreaking, because once you've heard Paco Peña's flamenco ensemble you know that no music goes as straight through the heart as the vocals of a flamenco singer to the scorching rhythm of guitars and percussion. The realization that the earth is the most precious thing that we possess, or perhaps not possess, completes the drama. In fact, it should not be called a Requiem, but rather a Scream of life: look what we still have and how dear it is to us.
Paco Peña wrote this special piece in 2004 as a call to humanity to be careful with our earth. He uses an exciting combination of passionate flamenco and classical choral singing. The title of the piece suggests a Catholic structure, and that is correct. Into the structure of the traditional liturgy, Paco Peña places prayers that fit into the church: Dear God, have mercy on us, we fear the day of judgment, forgive us for we are guilty, deliver us, make us your chosen ones who may enter paradise, please. But through it Paco Peña weaves texts that almost have the opposite message: We don't have eternal life at all, we are just passers-by, we have to pass the earth on to our children, but in heaven's name are we doing, what beauty have we already destroyed, what is left of the earth that was given to us? Fortunately, the last text is one of hope: It is not too late yet, our children can still dance among the flowers, because as long as we can sing about the beauty of the earth, we still have love and care in our hearts that we can address.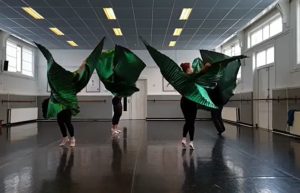 And singing there is. And dancing, conception, construction, creation. Four children's choirs are involved in the performances, the ArtEZ Institute of the Arts cooperates, and as a project theme it is central in secondary schools and, for example, at Dans Podium dance school in Zevenaar (see photo). The Oost Nederlands Kamerkoor from Doetinchem and Musica Vocale from Wageningen have been busy for weeks learning not only to sing the piece, but to let it penetrate into all their fibers. This concerns both the text and also the irresistible but oh so unruly flamenco rhythm, because it is a realy challenge to sing that in such a way that it sounds genuinely Spanish. Rob Vermeulen, conductor of both choirs, is the inspiring motivator who masters the piece and its atmosphere best of all, and who has everything to make the choirs rise above themselves.
And Paco Peña is in as well. An example of his involvement is that he came to Arnhem one evening in October to rehearse with the two choirs, while he had only been back from Australia for a day and a half and had worked in Rotterdam all day. Rob and Paco met in 2003 when they performed Paco Peña's Misa Flamenca together during the Al Bustan Festival in Beirut, Lebanon. This meeting was special for both of them. Rob Vermeulen learned to work with the musical genius Paco Peña, who to Rob's great surprise did not play from sheet music, but from his heart and memory. At the same time, Paco Peña learned what it is worth to work with a good choir and a good conductor. Every choir can sing notes, but to sing in such a way that it resonates with Paco Peña, skilled form and kneading work is needed that only a good conductor like Rob Vermeulen can deliver. The current collaboration is also an explicit wish of Paco Peña for that reason.