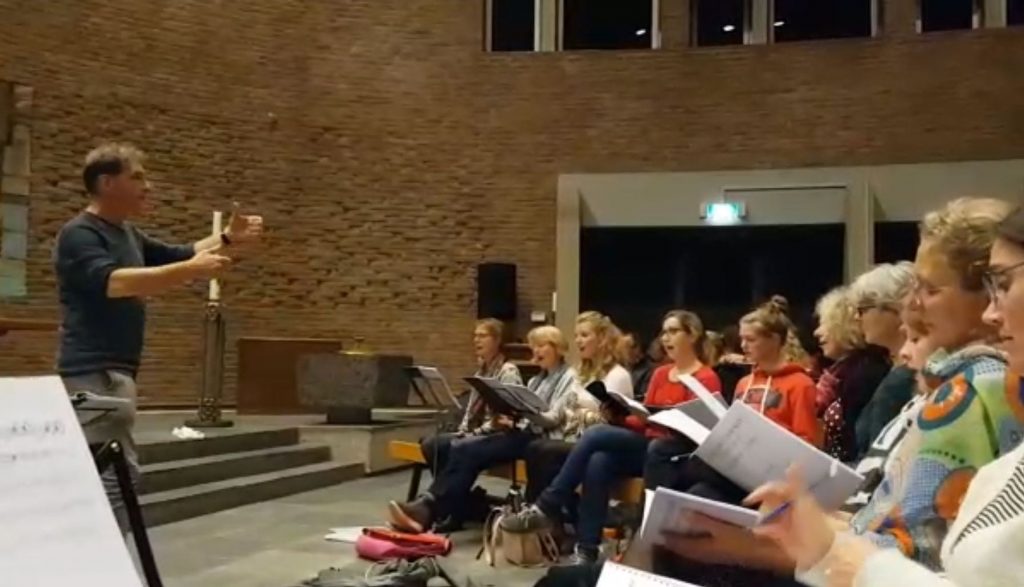 Tuesday evening is Musica Vocale's regular rehearsal. This time we are not in our common location, a school in Wageningen, but in a church in Arnhem, and the Oost Nederlands Kamerkoor (Musica Vocale's sister choir) is also present. Today is special, because we'll rehearse together with the great maestro himself, Paco Peña will join! Apparently he's returned from Australia only one and a half day ago, and he has worked all day in Rotterdam, but still he is willing to come to Arhem in the evening for a rehearsal with us.
When I enter the church, it's already busy with choir members setting up chairs. There are also some representatives of the children's choirs who will participate. Our conductor Rob Vermeulen is talking to an old man with white hair, I assume that this is the sexton. The sexton came to the church for us, opened the door, will see to it that we leave everything neat and tidy, and will close the church when we'll have finished. He does all of this for free, it's  nice that even today people like him are willing to devote their free evening to our service. We are grateful for it, because rehearsals are always better in a church, especially if it also has some acoustics.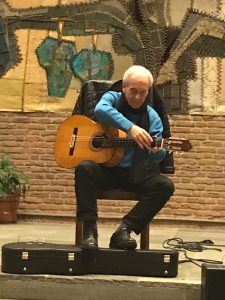 It's nearing eight o'clock, would Paco come yet? Then I see the man I had held for the sexton walk forward with a guitar in his hand. It won't be true, is that him? That's him. The great Paco Peña, who has acquired so much name and fame with his flamenco ensemble and his compositions, and who has performed all over the world, turns out to be a small, friendly, unobtrusive man of now 77 years old. He looks around uneasily, because we are sitting opposite him in large numbers, and we do not know each other yet. Paco tunes his guitar and strikes some chords. Fortunately there is Rob, who introduces us to each other and starts the rehearsal.
The moment Paco Peña really starts playing, something changes. Suddenly a piece of Andalusia echoes in the Arnhem church. His appearance is no longer sexton. Paco plays with great conviction the introduction of the part we are rehearsing. He is focused, he plays virtuoso and he has our unconditional attention. We strike up our part, still uncertain about our notes, stumbling over the Spanish text. We are no match yet for Paco Peña's obvious musical expression. Since, obviously, not the entire flamenco ensemble is present, he plays all guitar parts by himself, summarizing the different lines, improvising into some kind of total sound.
There is no question of improvising otherwise. You would almost think so, because Paco Peña plays everything by heart and has no sheet music in front of him. In fact, he can't even read sheet music. We do have sheet music, made by someone who noted down what Paco played, an admirable job in itself. But that does not mean that Paco always plays what he wants, on the contrary, the entire composition is present in his mind. When Rob stops us and wants to start again at a certain place, he says: "From the double line again". This does not mean anything to Paco Peña, so instead he strikes a few chords and asks, "do you mean this, or maybe this?". And then we are all at the same point again.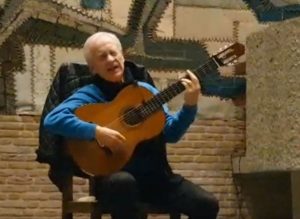 A sensitive, slow part follows. He no longer plays like a virtuoso, but quiet chords, almost whispering. You can hear a pin drop. Then there is an intermezzo, where the flamenco singer should sing solo, but of course she is not present tonight. No problem: Paco effortlessly observes the honors. His voice is old and tired, but his spirit is not. On top of his own guitar playing, he swings the melody into the space,  creaking and squeaking, not touching the exact notes, but touching the intention all the more. We listen breathlessly. I see many people around me wiping away a tear, I didn't know we were such a sentimental choir, but there's no denying it: even in this minimal form, only with a voice and a guitar, Paco Peña knows how to deliver goosebumps to all of us.
We totally fell in love with him.
(Sjoukje)